Why it's this week's Best Bite: This post is a little overdue, since the occasion for this special meal was Father's Day, but the stunning presentations and nuanced flavors are still fresh in my mind. We opted for the tasting menu with wine pairings and thus were able to see the full range of technique from Chef Ryan McCaskey.
We began with several snacks, including truly adorable miniature lobster rolls whose buns were made of pâte à choux (the foundation for cream puffs, and a staple of any pastry school curriculum). It was also a fun way of alluding to the full-size lobster rolls for which Acadia is lauded. Before we transitioned into the first course, Chef came out to our table to deliver their signature biscuits with butter and sea salt. He greeted us warmly, and also settled a friendly dispute between my dad and me over the origin of the flatware (I was right; it was French!). Soon after, the first course appeared in a shimmering bowl, complete with a pearl spoon that matched the opalescent oyster shell in the center. Hints of black garlic, chive, and eggplant added bite and depth to the salty caviar within the shell. After seeing plating that was so beautifully in tune with the glitzy champagne-and-caviar theme, we knew we were in for a treat.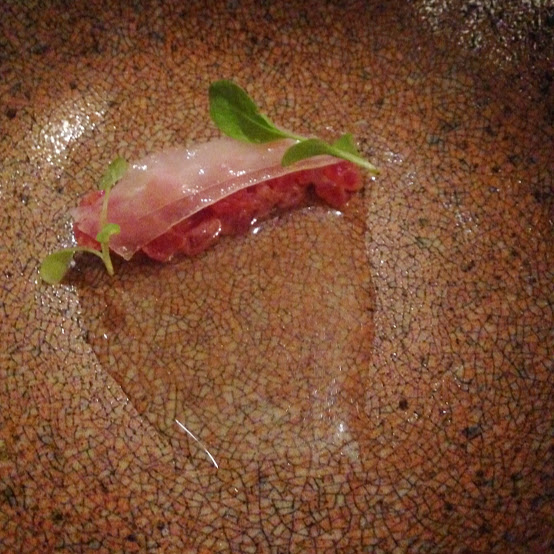 The yellowfin tuna course arrived as what was essentially a deconstructed spicy tuna roll, if you subtracted the rice and added miso soup. Light and clean, it was a nice segue into the vegetable course that followed. That dish showcased asparagus – purple, green, white, and French varieties – with richness from truffle and egg yolk, plus an incredibly crisp Italian white wine to go with it.
The lobster cappuccino was one of my favorite courses, its luxurious foam and umami-rich broth served in a dainty teacup. This course also had the most interesting white wine pairing of the evening: a Rhone-style California blend with a round sweetness that was a perfect counterpart to the sherry and lobster. Another seafood standout was the lubina, a mild whitefish joined by clams, fennel, and pungent chorizo powder for a bouillabaisse effect.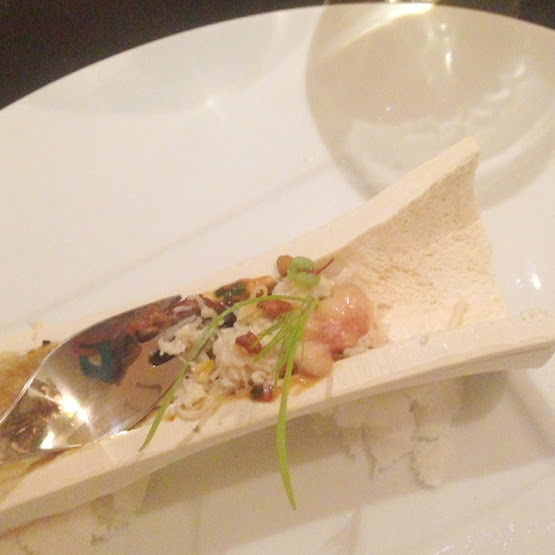 I was excited to see a bone marrow course, and was impressed by how it stood out from other marrow preparations I've had in the past. Served in a pristine white bone, the dish was a study in sharply contrasting layers: jerky-like veal at the bottom, shredded crab in the middle, and fatty marrow on top. We then paused for a dense, herb-flecked miniature waffle as another intermezzo.
By the time we got to the beef course, the petite portion of smoked ribeye (cooked to a flawless medium-rare) was as satisfying as a full meal of steak and potatoes. This dish felt the most classic, even down to the fantastic Cabernet pairing. After the steak, I was still eagerly anticipating the foie gras course, since I ate the best foie of my life on my only other visit to Acadia nearly six months earlier. While I do have to admit I liked January's preparation better overall, this one struck the same kind of balance between the foie and an array of aromatic (celery and fennel), fruity (strawberry and rhubarb), and sweet (white chocolate) accompaniments, paired with bitter aperol to cut through all the sweetness.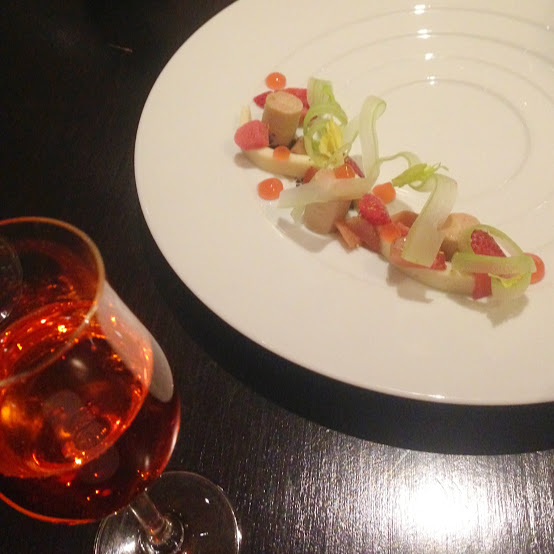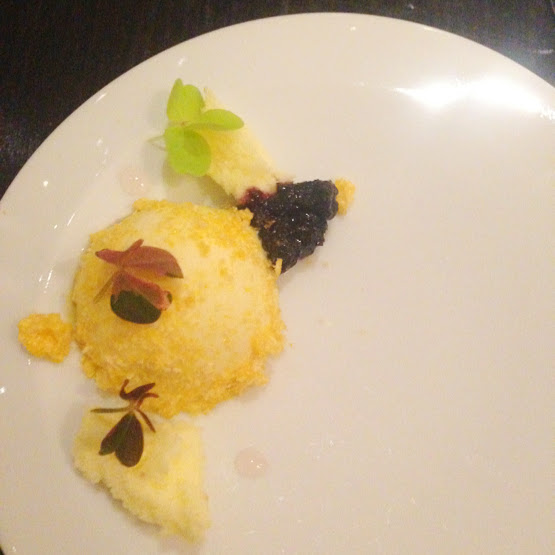 Finally, it was on to the desserts. A dome of not-too-sweet Japanese cheesecake with honey and berries was creamy and citrusy, while a nutty profiterole with banana and chocolate became even warmer and more comforting as I sipped the cinnamon-leaning amaro paired with it. All in all, one of my favorite meals in Chicago so far, and well worth keeping in mind for any special occasion.
The details: Acadia, 1639 S. Wabash Ave., Chicago.
[googlemaps width=300 height=300]