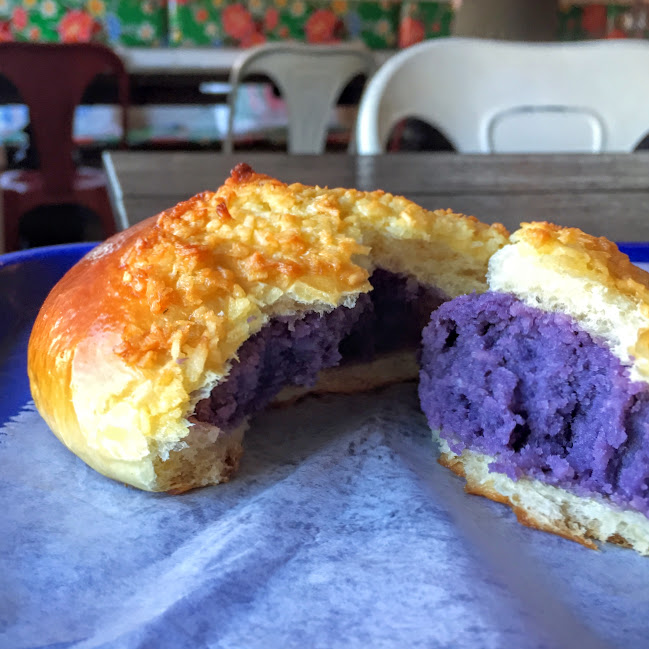 Why it's a Best Bite: It's no secret that Fat Rice is a favorite of mine for both dinner and brunch, so I was excited to check out their take on a Macanese bakery. In July, the Fat Rice team opened this daytime pastelaria along with an adjacent, red-lit cocktail lounge called The Ladies' Room that's reservations-only.
I couldn't help but love the bakery's decor. From the pastel-painted storefront to the vibrant birdcage light fixtures, color was everywhere – including the pastries. Cracking open my ube bun revealed a yam filling in an almost shocking shade of royal purple. Its texture contrasted nicely with the crispy coconut that formed a golden crown on top.
Anywhere else in the city, you'd expect that a breakfast pastry modeled after a Chicago-style hot dog would just be an overdone novelty, the stuff of downtown tourist traps. But here, they totally pulled it off. The poppy seeds, onion, celery salt, and bright green relish with chunks of Vienna beef hot dog brought me straight to the ballpark, just with a more elaborate bun.
I added the mochi almost as an afterthought, since I tend to enjoy it in all forms, and am grateful I did. The stretchy rice-flour exterior was flecked with coconut and then stuffed with peanut, black sesame, and other crunchy seeds. Sweet and salty doesn't even cover it – this was borderline addictive.
The details: The Bakery at Fat Rice, 2951 W. Diversey Ave., Chicago.
[googlemaps width=300 height=300]