Travel Eats documents my food adventures while traveling.
To celebrate my 30th birthday, I gathered some of my closest girlfriends and made my first-ever trip to Las Vegas. I took advantage of my full week there by sampling cuisine from several of the world-class resorts and elsewhere on the Strip, plus a few stops downtown.
I knew I couldn't go to Vegas without experiencing a buffet, and chose the Wynn for both food quality and overall aesthetics. As you can see above, it was a jaw-dropping floral wonderland. Amidst the overwhelming selection (mini-baskets of fish and chips! Tuna poké and dumplings! Mini-skillets of shrimp and grits! So many hand-carved meats!), my favorite station was the made-to-order latkes, which were served either reuben-style (corned beef and sauerkraut) or with smoked salmon, capers, lemon, and chive sour cream (my selection; it was exceptional). And on top of all that, there's a full room dedicated to dessert, complete with a spinning gelato wheel. It was a true midday feast.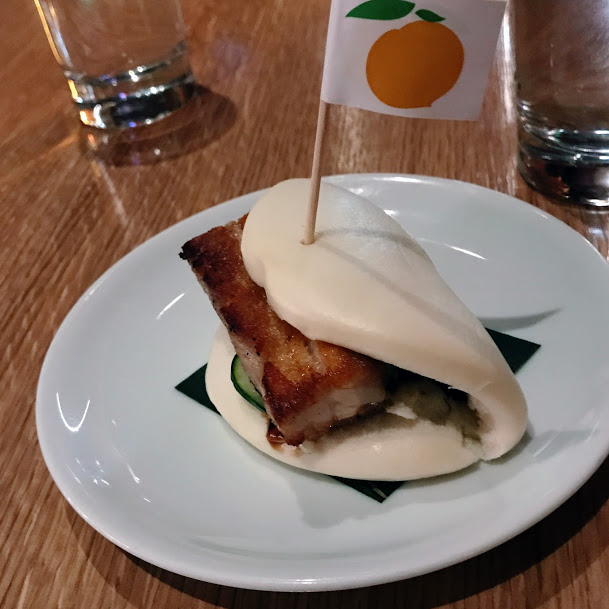 Momofuku was high on my to-do list, since I've still never been to the original New York location. It made the most sense to visit during Social Hour, a resort-wide happy hour at the Cosmopolitan. I had to try the pork bun, the now-iconic dish that laid the foundation for Chef David Chang's culinary empire. From soft bun to rich pork to simple sauce and garnish, it definitely lived up to its reputation. I was also wowed by the chilled noodles that were coated in a spicy sauce and piled with a satisfying combination of basil, sausage, and candied cashew.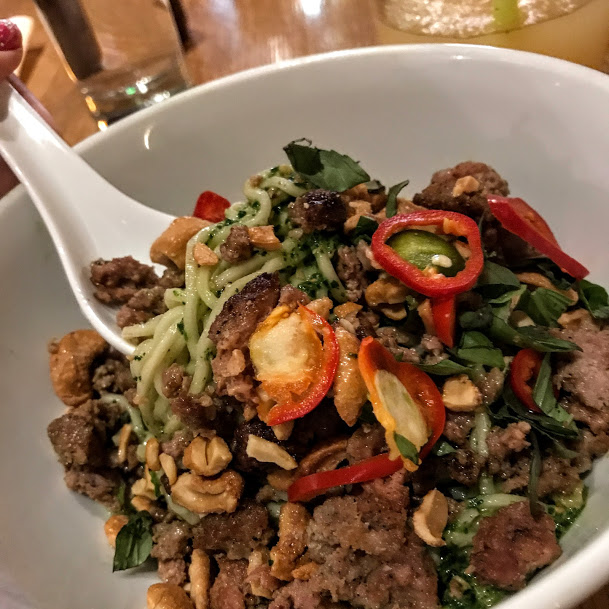 Another Social Hour standout was China Poblano, Chef José Andrés' colorful fusion of Mexican and Chinese flavors. I went with one dish from each cuisine, and while I enjoyed the messy, red-sauced pork bun, tucking a crunchy chicharron into a melty quesadilla was the truly genius move.
And because I apparently couldn't get enough of the Cosmopolitan's restaurant selection, I also dined at Beauty & Essex, whose dining room is hidden behind a pawn shop facade with jewelry and fancy guitars. The bone marrow was flawless, with wine-braised shallot marmalade to smear onto strips of toast along with the marrow itself. The tuna poké wonton tacos were bright and refreshing (not to mention adorably served).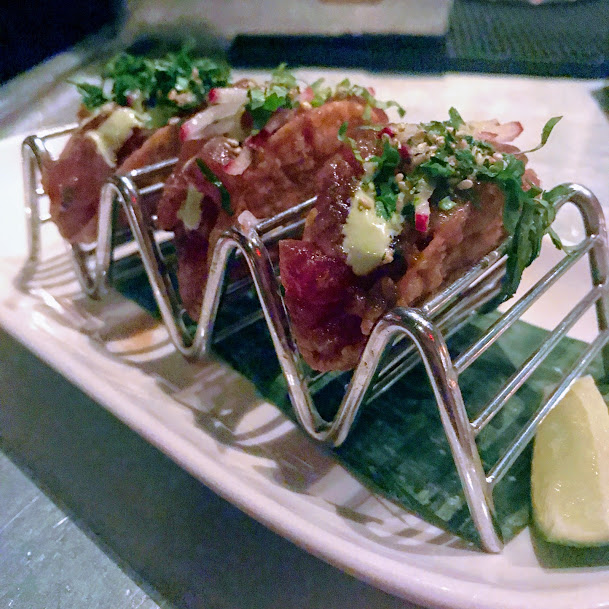 My first meal of the trip was at Mesa Grill, Chef Bobby Flay's high-end Mexican restaurant at Caesar's Palace. The pork tenderloin was some of the best pork I've ever had, a perfect medium with sweet and spicy sauces, and the pecan-buttered tamale on the side was an excellent take on sweet potato. I couldn't help but think that the blue and yellow corn muffin in the bread basket looked familiar – and then realized it was from when I dined at the original New York location way back in 2008.
At the Venetian, we loved the canal-side view from the patio at B&B Burger & Beer (the B's are for Mario Batali and Joe Bastanich). The burger itself was rich and extra cheesy, with nice bitter contrast from grilled treviso (a variety of radicchio).
Todd English's Olives at the Bellagio was well-suited for a late dinner after our daytrip to the Grand Canyon's west rim (unimaginably vast and beautiful, by the way). Both the fig-prosciutto and smoked salmon flatbreads had a ton of flavor, and also kept well as leftovers the next day.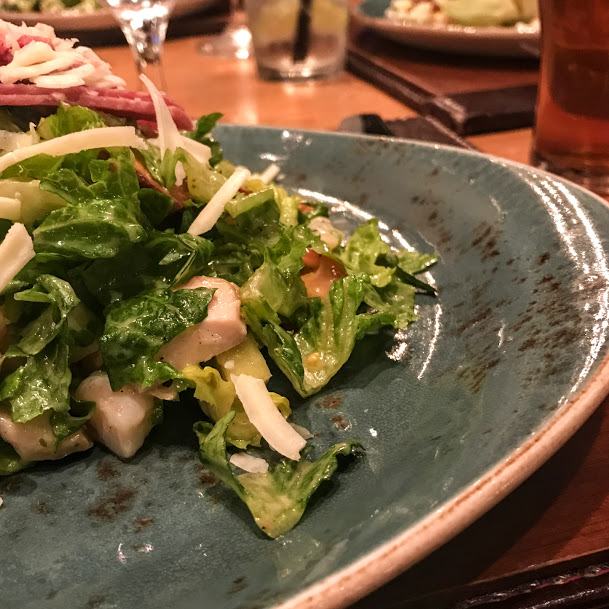 Gordon Ramsay is another celebrity chef with a solid presence in Vegas, so decided to fit his pub into the agenda. The pub chopped salad was a pleasant surprise, especially considering its long list of potentially disparate ingredients (shrimp, pretzel crisp, chickpeas, salami, white cheddar, and more).
For the opposite of a salad, we made an obligatory trip to In-N-Out, the West Coast burger chain with a cult following. The not-so-secret animal-style fries with cheese, grilled onions, and burger spread did indeed hit the spot.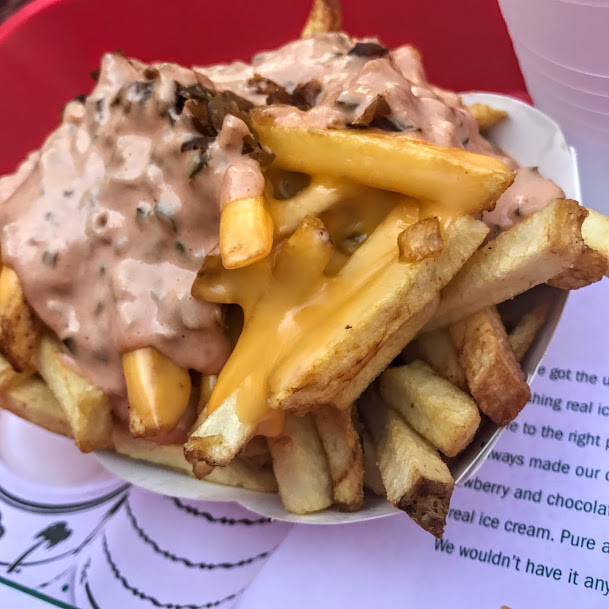 On the sweeter side, I made sure to stop at Milk Bar, which is affiliated with and right next to Momofuku. Their signature Crack Pie (gooey butter cake with oat crust) was available in soft-serve form, and it did manage to capture the same level of decadence.
I also sampled the gelato at Jean Philippe Patisserie, a Bellagio shop that's best known for boasting what they claim to be the world's largest chocolate fountain. A few of the floor-to-ceiling glass shelves and flowing chocolate are shown in the background below.
And of course, you can't spend a week in 100-plus degree desert temperatures without a few frozen drinks. I knew that Island Time was a rare purveyor of famed Dole Whip (pineapple soft serve), so I stopped by one sweltering evening for their citrusy Whip It cocktail. Though I've never seen anything melt so fast, it was just right for the heat.
With its multiple locations along the Strip, Fat Tuesday is the main supplier of the comically large frozen drinks that many people tote from place to place. I ordered a blend of the bellini and pina colada flavors of frozen daiquiri – both tasty and not as saccharine as you'd expect – and split it among personalized cups made as souvenirs for my friends.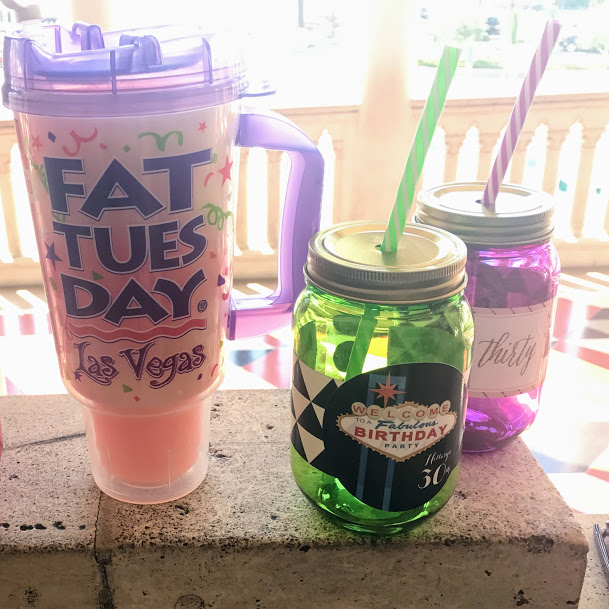 One night, we went old-school Italian at Battista's Hole in the Wall, a place that's been around since 1970. It kept coming up in my dining research, possibly because meals are such a bargain. The generously portioned entrees all include soup or salad, garlic bread, cappuccino (which was closer to hot chocolate), and unlimited carafes of house wine. My veal parmesan was the red-sauce classic I was hoping for, and fit right into the endearingly kitschy atmosphere.
I also made sure to visit the downtown area to experience a bit of Old Vegas, and was delighted to find a hidden craft brewery gem among the glitter and grit of Fremont Street. The coffee kolsch was especially good, and reminded me a lot of a Portland brew that I've wanted to re-discover ever since.
While downtown, I explored the Downtown Container Park, continuing the trend of converting old shipping containers into shops and eateries. I'd heard that Pinches Tacos was the place to go, and both the tacos and flautas delivered. I also really enjoyed my coconut cold brew at The Black Cup Coffee Co. stand – it gave me the boost I needed to continue my delicious adventures.
The details: The Buffet at Wynn, 3131 S. Las Vegas Blvd.; Todd English's Olives and Jean Philippe Patisserie at Bellagio, 3600 S. Las Vegas Blvd.; Mesa Grill and Gordon Ramsay Pub & Grill at Caesars Palace, 3570 S. Las Vegas Blvd.; Beauty & Essex, China Poblano, Milk Bar, and Momofuku at Cosmopolitan, 3708 S. Las Vegas Blvd.; B&B Burger & Beer at Venetian, 3355 S. Las Vegas Blvd.; Fat Tuesday at Grand Canal Shoppes, 3377 S. Las Vegas Blvd.; Island Time Floats Tiki Bar at Grand Bazaar Shops, 3631 S. Las Vegas Blvd.; In-N-Out Burger at Linq, 3535 S. Las Vegas Blvd.; The Black Cup Coffee Co. and Pinches Tacos at Downtown Container Park, 707 Fremont St.; Banger Brewing, 450 Fremont St.; Battista's Hole in the Wall, 4041 Linq Ln.; all Las Vegas, Nevada.