Travel Eats documents my food adventures while traveling.
We'd faced the fact that there would be no "normal" vacations in 2020, but after months of quarantine, we were desperate for a change of scenery. Door County emerged as our chosen weekend getaway destination for its reasonably close proximity, well-regarded food (especially its cherries!), and peaceful waterfront views to soothe the anxieties of this season. As a disclaimer, we ate exclusively outdoors at restaurants with distanced tables and mask policies.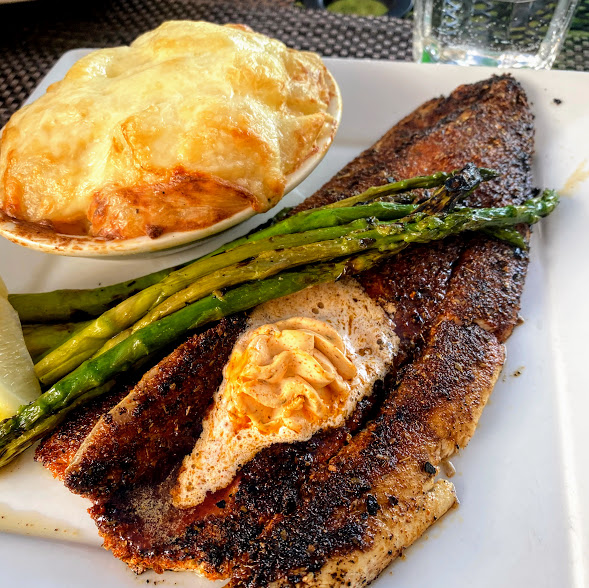 We were first-timers to Door County, but quickly saw why the area is called the Cape Cod of the Midwest: each town along the peninsula had its own coastal personality, and there was plentiful fresh seafood. At Harbor Fish Market in Bailey's Harbor, along the shore of Lake Michigan, flaky local whitefish came beautifully blackened with spicy layers of seasoning and compound butter.
The lobster roll at Boathouse on the Bay came highly recommended by friends whose Door County visit barely missed overlapping with ours. It was a solid recommendation, with sizable pieces of lobster that were lightly dressed enough to shine on their own. And the same buttery split-top bun was also used for the hulking Wisconsin bratwurst my husband ordered, to his delight. Our waterfront view added to the East Coast-style experience.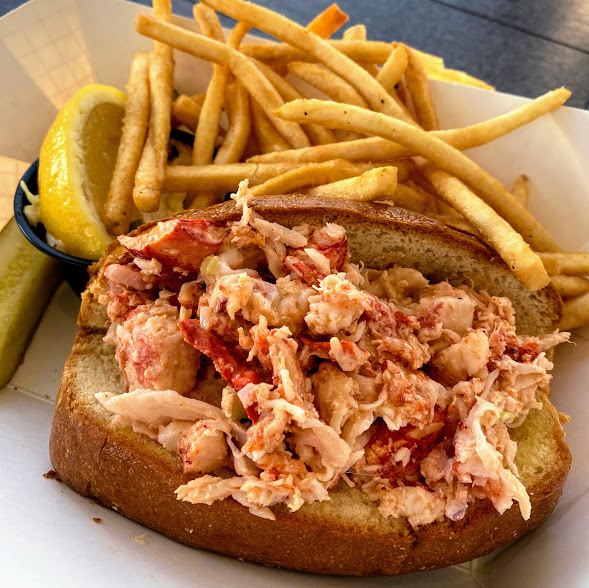 In Egg Harbor, we found unexpectedly creative Cajun-inspired cuisine at The Fireside. We started with hush puppies, richly studded with both andouille and lobster, then finished with a zingy aioli. My fried alligator tacos were topped with a flavorful Southwest-Asian fusion of corn relish, lemongrass, and chili sauce, and the side of grits was ultra-creamy from lots of goat cheese. And because it was our first meal after crossing into Wisconsin, I couldn't help but pair it with the beloved Spotted Cow beer from New Glarus.
I was excited for opportunities to sample the ubiquitous local cherries. At breakfast, that meant fluffy cherry pancakes at the charming Old Post Office Restaurant, aptly named for the building's usage in the early 1900s. As a bonus, our outdoor table afforded a lovely view of the water in Ephraim, our favorite of the towns for its scenery.
Another morning, in Fish Creek, I started the day with perhaps the best vegetarian breakfast sandwich I've had. Between two slices of ciabatta were a whopping nine layers of roasted veggies, sauces, cheese, and a jammy egg – complex and delicious.
Another sandwich success was the tuna melt at Stone Harbor in Sturgeon Bay, our last stop of the weekend. The melty Wisconsin cheddar and generously toasted bread made it a fine example of the comfort food classic.
And like any good getaway destination, there were plenty of sweets. We savored our shortcake crumble sundae with local strawberry compote at Not Licked Yet, a frozen custard shop that's been in Fish Creek for nearly 40 years. We'd also heard excellent things about the pies at Sweetie Pies and the goat's milk gelato at Door County Creamery, so planned ahead to save our slices until we could pair the two together. It was absolutely worth the wait.
The details: The Fireside Restaurant, 7755 Hwy. 42, Egg Harbor; Blue Horse Beach Cafe, 4113 Main St., Fish Creek; Not Licked Yet, 4054 Main St., Fish Creek; Sweetie Pies, 9016 Hwy. 42, Fish Creek; Harbor Fish Market & Grille, 8080 Hwy. 57, Baileys Harbor; Old Post Office Restaurant, 10040 Water St., Ephraim; Door County Creamery, 10653 N Bay Shore Dr., Sister Bay; Boathouse on the Bay, 10716 N Bay Shore Dr., Sister Bay; Stone Harbor Restaurant, 107 N First Ave., Sturgeon Bay (all Wisconsin).