This fall was my busiest wedding season ever: in six weeks, I attended four weddings across three states! Here's a round-up of my favorite tastes from each trip.
Madison, WI
OK, technically this wasn't at the wedding, but it was falafel that the bride claimed was the best she'd ever had, anywhere, so I made it a priority to try some for lunch. The texture of each sesame-heavy falafel ball was completely perfect, and each of the accompaniments were bright and flavorful. It's a little off the beaten path, but Banzo is worth a stop if you're in Madison.
From the wedding reception at Nakoma Golf Club, I adored the creative desserts. Several tempting varieties of pie were available alongside towers of petite donuts from Chicago's own Glazed and Infused. Miniature versions of apple fritters and old-fashioneds? Yes, please.
Chapel Hill, NC
This wedding was held at Top of the Hill, a brewpub in the heart of downtown Chapel Hill. Out of several tasty appetizers, my favorite were the crispy fried green tomato wedges topped with sour cream and a bit of caviar – and they also felt fitting for my first time in the area!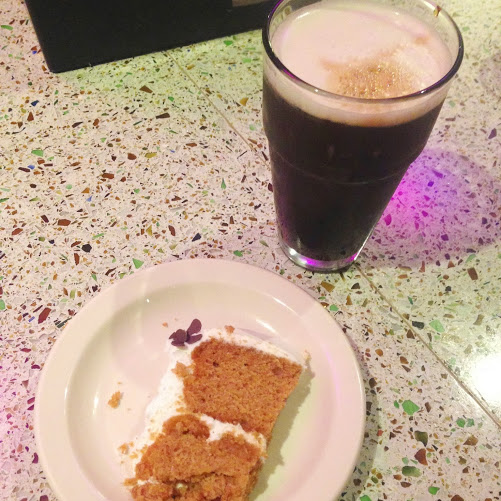 I also couldn't get enough of my dessert duo: Southern-style sweet potato cake paired with a Black and Blue that the bartender made with equal parts of Lewis Black Imperial Stout and the Blueridge Blueberry Wheat, both brewed on-site. The beer combination alone was outrageously good, but the fruit and chocolate flavors were enhanced even further by the spiced cake.
Chicago, IL
I was grateful that this wedding was only a cab ride away! I filled up on hefty ham and cheese empanadas during cocktail hour, their flaky crusts worth risking stray crumbs on my dress (sadly, my hands were too full to snap a photo). Both the appetizers and family-style main courses stayed in line with the Argentine and Venezuelan influences of the venue, Ravenswood's ARTango. The sweetest part, though, was the array of sizable Molly's Cupcakes that appeared as we hit the dance floor.
Lake Geneva, WI
Held at the Riviera, with gorgeous lake views as its backdrop, the reception's highlight was hearty pulled pork sandwiches on pretzel buns with a tangy barbecue sauce. The mashed potatoes on the side (topped with cheese – it's Wisconsin, after all) upped the comfort quotient, and dainty root-beer and orange-soda floats rounded out the meal as drinkable dessert.
Congratulations to all four newlywed couples! And yes, I'm done with weddings until 2014.