This Best Bite is one of the 20 foods and 15 drinks I've set out to taste and document in 2015. View the full list to see my plan and progress.
Why it's this week's Best Bite: Sink|Swim is the second venture from the proprietors behind Scofflaw – widely considered one of Chicago's very best bars – and is conveniently located on the same block. While I expected to be impressed by the menu, especially because of its focus on seafood, these dishes represented some of the most intriguing culinary concepts I've seen lately.
Take the shrimp toast, for example: instead of the individual-shrimp-atop-bread that you'd expect, the shrimp is mixed into spicy n'duja sausage to form a spread for toasted brioche (for more details, read Chicago magazine's playful review). And who can say no to a mini umbrella? I also couldn't get enough of the beef and oyster tartare, a combination I hadn't seen before. Scooping the doubly delicious meat onto a crispy chip, together with the horseradish and pickled onion, felt almost like a deconstructed deli sandwich.
I'm always interested in savory desserts, and this pecorino cake fell into the "where has this been all my life?" category. The nutty cheese came through just enough in the dense cake itself, balanced by a swipe of honey-kissed cream, a generous dusting of pistachio, and an assertive kick from the grapefruit. Pecorino also made an appearance in the charred broccoli, joining furikake seasoning and creamy sauce for a completely unique (yet still comforting) flavor profile.
But perhaps the most surprising snack was the caviar dish. The tiny rounds of brioche were soaked in onion caramel, then topped with smoked roe and shavings of cured egg yolk. Part breakfast (think eggs, smoky bacon, and biscuits with honey) and part luxury appetizer (it's caviar after all), it was an entirely original, bite-sized treat.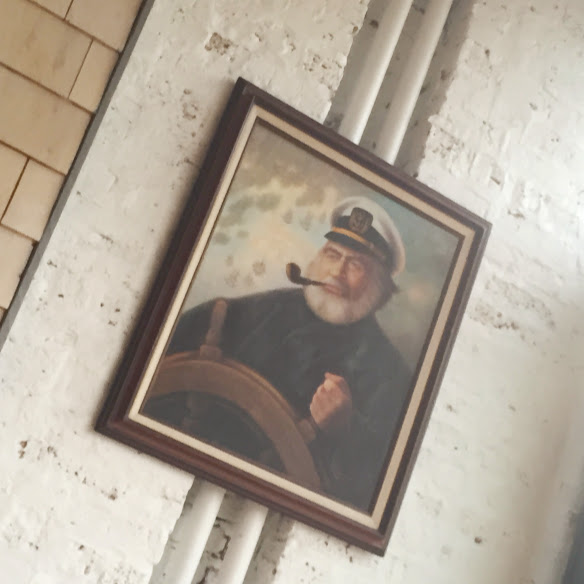 The details: Sink|Swim, 3213 W. Armitage Ave., Chicago.
[googlemaps width=300 height=300]