Travel Eats documents my food adventures while traveling.
Before I go into any further detail about my weekend in London, I must explain this first photo. Duck & Waffle is a 40th-floor restaurant with panoramic views of London; it's also open 24 hours a day. When I called to make a reservation, I was told that 12:45 was available. As in, 12:45 a.m., a reservation time that has never occurred to me as a possibility. But we took it, and were later whisked up 40 floors in a glass elevator for our late-night meal. A second revelation was soon to follow: this 24-hour menu listed foie gras crème brûlée as an actual dish you could order. My mind could barely conceive of this decadent combination, but there was no way I could pass it up. It had the texture and caramelized sugar shell of a crème brûlée, but the meatiness of foie. As strange as that sounds, it worked really well, and the brioche on the side even made it feel more like a appetizer. My glass of dry French rosé was much needed to cut through the richness. And of course, the lovely nighttime city views heightened the whole experience.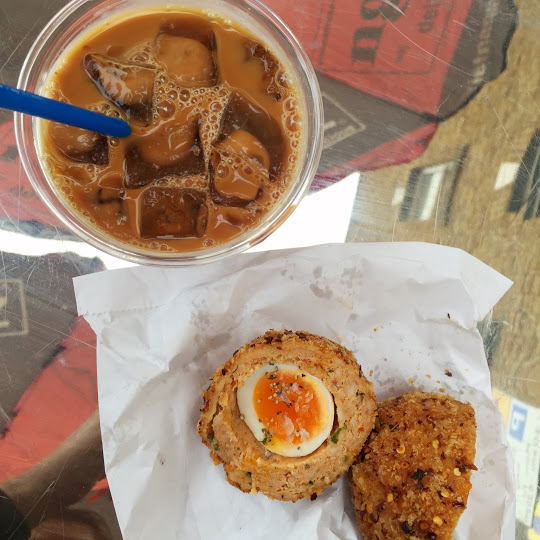 On Saturday morning, we strolled through the Broadway Market and were able to sample several offerings from local vendors. I was greeted almost immediately by the most gorgeous, colorful display of meringues I had ever seen. I tried the watermelon variety, complete with decorative black sesame seeds, and the flavor was spot-on as well. Next, an array of scotch eggs appealed to my savory breakfast cravings. I opted for chorizo, which was just a little spicy and anchored by a perfectly soft-boiled egg. I got my caffeine fix from an excellent version of Vietnamese iced coffee, whose stall also had a nice seating area. I saw a display of Persian stuffed dates, and couldn't help but try one – the orange mascarpone, burnt almond, and pistachio were such an unexpected treat together. I was also pleasantly surprised by our donut selection: I knew I'd appreciate the banana cream and the sea salt caramel, but the mild tang of the chocolate sourdough base made it much more interesting.
Sunday brunch was also quite special. Dishoom has a few locations in London, and serves cuisine inspired by the Irani cafés of Bombay, India. I was enticed by the dry-cured, cold-smoked bacon in the bacon and egg naan roll, and it was the perfect fusion of breakfast flavors: the classic bacon and egg alongside chili jam and cream cheese, all wrapped up in puffy naan bread. The side of masala beans were richly spiced and almost smoky. To drink, I had a bottomless cup of Dishoom's incredible blend of house chai.
I snagged some enormous figs at the fruit market on Brick Lane, also charmed by the adjacent sign that called pomegranates "pommys." And I couldn't leave London without a classic, fruit-filled Pimm's cup. The version at Marksman Public House was just the refresher I needed after braving the crowds at the famous Columbia Road Flower Market.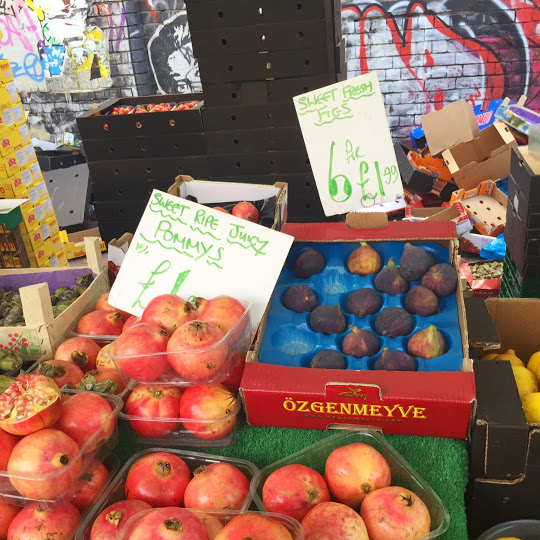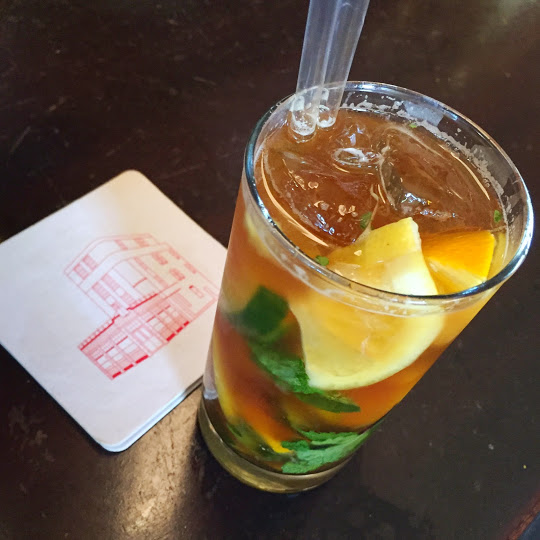 The details: Crosstown Donuts, Broadway Market Schoolyard at London Fields Primary School; Meringue Girls, Cà Phê VN Saigon Street Cafe, Finest Fayre, and Zardosht, all at Broadway Market; Duck and Waffle, 110 Bishopsgate; Dishoom (Shoreditch), 7 Boundary Street; Brick Lane Fruit Market, Sclater Street; Marksman Public House, 254 Hackney Road; all London, England