Travel Eats documents my food adventures while traveling.
In the fall, I spent a long weekend in Nashville with a girlfriend. We were there to celebrate another friend's wedding – which had incredible culinary offerings of its own, I might add – but also managed to sample a lot of other local offerings.
I have to begin with Butcher & Bee, where their brunch menu was possibly the most enticing and creative one I saw all year. I absolutely couldn't get over the whipped feta appetizer, with a pool of fermented honey and a healthy dusting of black pepper. It was deceptively simple at first glance, but the feta spread was so outrageously good with the blistered pita bread that I'm sure I'll be recalling it for years to come.
I was also impressed by the most beautiful presentation of delicata squash I've seen at any meal, much less brunch. From the lacy fried egg to nutty farro to juicy pomegranate seeds, it was a lovely, still-light dish. For balance, the breakfast sandwich biscuit put us back into richer territory. A fluffy biscuit was slathered with more whipped feta (!), plus egg and maple-sage sausage. It was a classic done very well.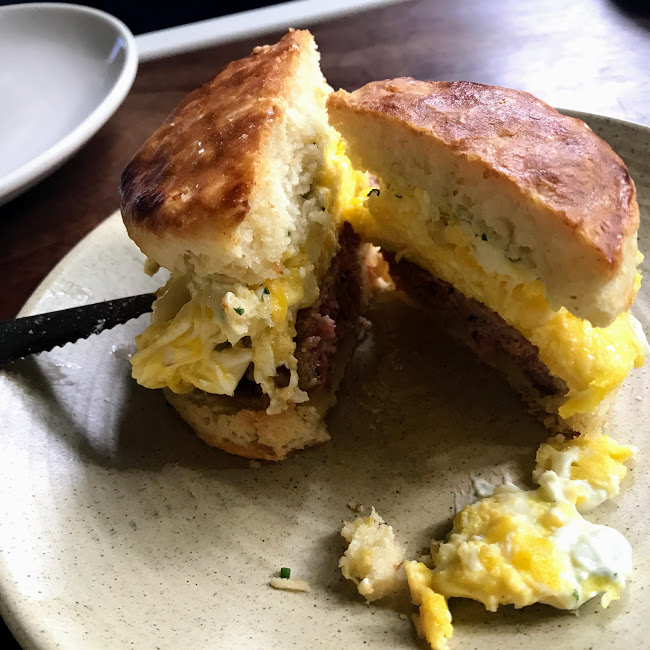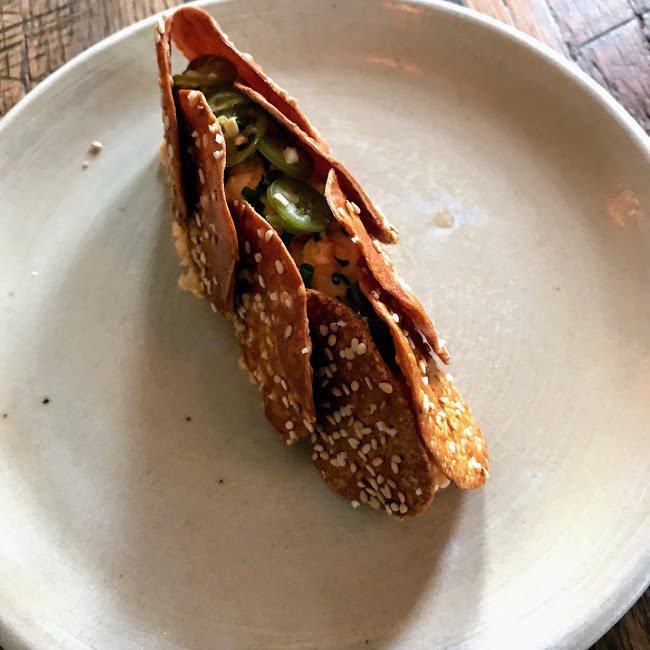 And because I had loved Husk so much while visiting Charleston four years ago, I knew I had to check out the Nashville location. I first made sure we ordered the pimento cheese in some form, as chef Sean Brock is known for it. Here, it was hidden underneath a tunnel of seedy crackers, but still as good as I'd remembered.
My favorite dish, though, turned out to be the crab rice. Amidst so many different textures, the buttery crab flavor still shone through in the best way.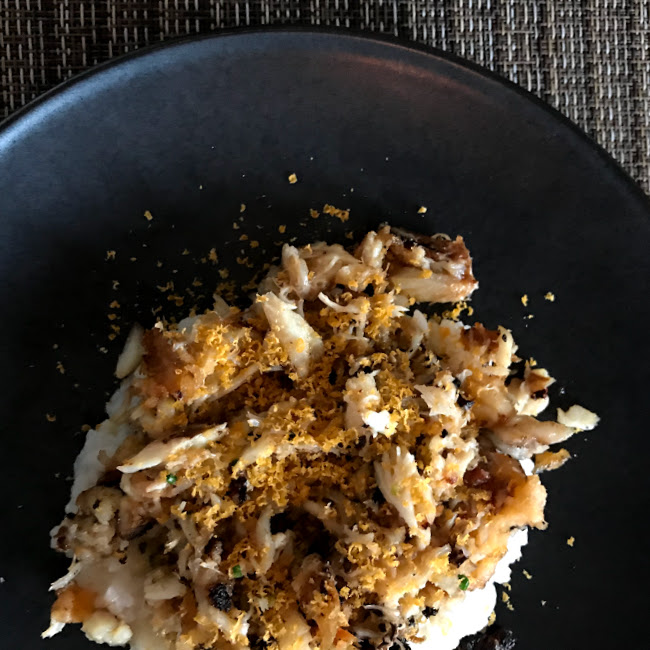 Another highlight was the duck confit and its ash-buried beets (it sounds strange, but worked). And for dessert, we had the most adorable popsicle, almost like a Creamsicle but with melon and a hint of crunch.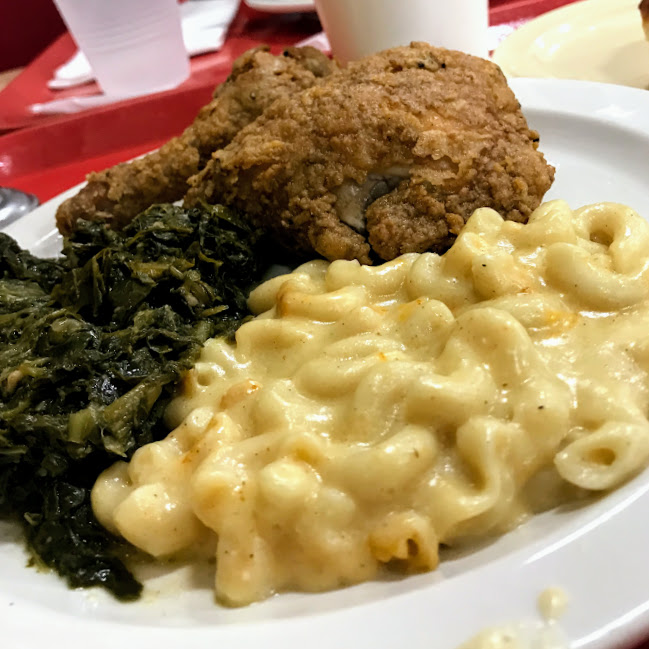 Nashville is also known for the classic meat-and-three (a meat main course with three side dishes). For that, we went straight to Arnold's, the top recommendation from a coworker who grew up in the area. We arrived right at opening, to avoid the long lunchtime lines, and weren't disappointed by the extra-fresh-and-crispy fried chicken, creamy mac-n-cheese, and vinegary greens. And I couldn't pass up a comforting slice of strawberry pie with a mile-high blanket of whipped cream on top.
Since we were staying in East Nashville, it was convenient to explore the up-and-coming food scene there. We happened upon Five Daughters Bakery, and saw that their version of a cronut (croissant-donut hybrid) claimed to have 100 layers. I didn't count them, but did conclude that putting a smear of cookie dough on top of any donut is a brilliant idea. In that same category of hybrid indulgences was the waffle grilled cheese at The Terminal Café (I'm hopeful that Chicago will catch up to this idea soon).
I was excited to briefly check out Pinewood Social, an airy all-day venue with novelties such as bowling lines and a pool. While we didn't stay for those activities, it was still worth it to sip this cocktail, a julep variation with added depth from amaro and ginger.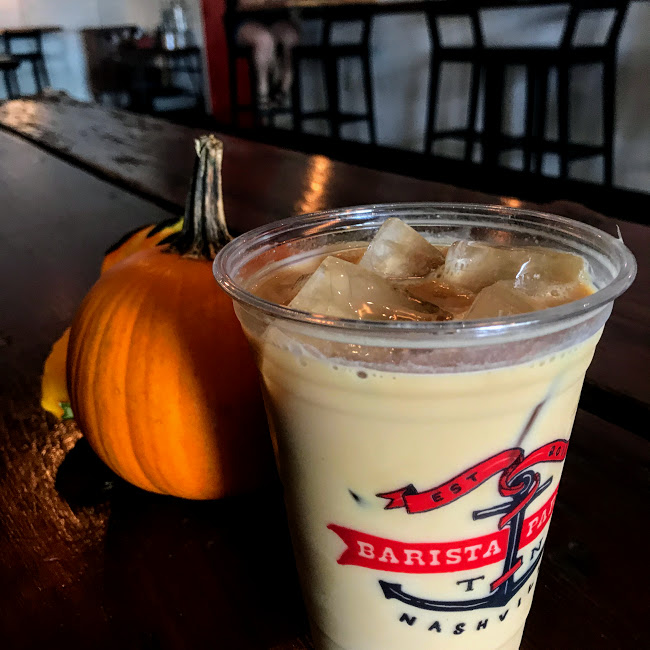 It was warm enough to still crave caffeine over ice, so I found two delicious versions: the iced bourbon vanilla latte at Barista Parlor, a gorgeous converted garage space; and the salted maple pecan cold brew at The Trailer Perk, an adorable mobile shop parked inside the Nashville Farmers Market.
One last trend worth mentioning was turmeric – the golden-hued powder is becoming increasingly popular for its health benefits, so it kept popping up everywhere we went. I tried it in a latte with other warm spices at Ugly Mugs, then in a cooler at Café Roze; both were flavorful and somehow cleansing. I have to say, too, that having that vibrant cooler alongside (really good) avocado toast, all on top of a millennial pink table, felt like the most Instagram-worthy moment of 2017.
The details: Butcher & Bee, 902 Main St.; Husk Nashville, 37 Rutledge St.; The Terminal Cafe, 733 Porter Rd.; Five Daughters Bakery, 1900 Eastland Ave.; Pinewood Social, 33 Peabody St.; Barista Parlor, 519B Gallatin Ave.; Ugly Mugs, 1886 Eastland Ave.; The Trailer Perk at Nashville Farmers' Market, 900 Rosa L. Parks Blvd.; Arnold's Country Kitchen, 605 8th Ave S.; Cafe Roze.