Like last year, I've chosen 20 more Chicago dishes and drinks – some old favorites, some new discoveries – that I didn't have the chance to blog about in 2017. View year-end recaps from 2012, 2013, 2014, 2015, and 2016.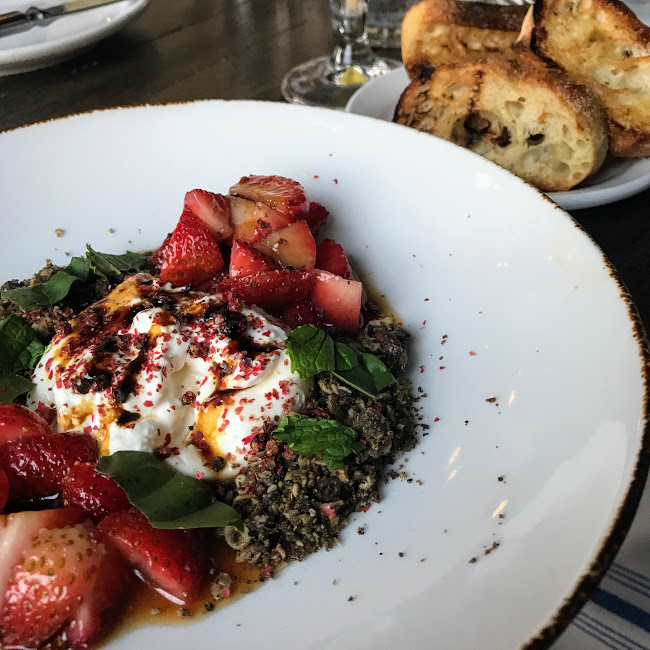 BRUNCH:
Best spin on a egg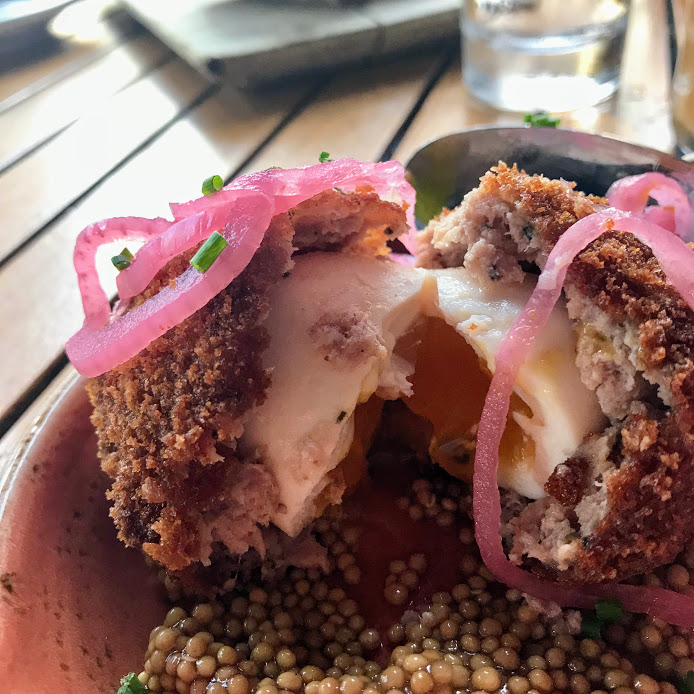 We ordered this appetizer almost as an afterthought, but all the textures – tiny pickled mustard seeds, crunchy battered sausage, and a perfectly runny egg – made it memorable. It was even better accompanied by live blues performers on the riverside patio on a warm September day.
Most unique breakfast sandwich
The chorizo verde is now a mainstay of Quiote's dinner menu, but over the summer it showed up as an egg-topped breakfast sausage. The meat itself was so flavorful that I could have easily eaten it on its own, but having it safely ensconced in a soft lobster roll made it more delicious.
Most indulgent dim sum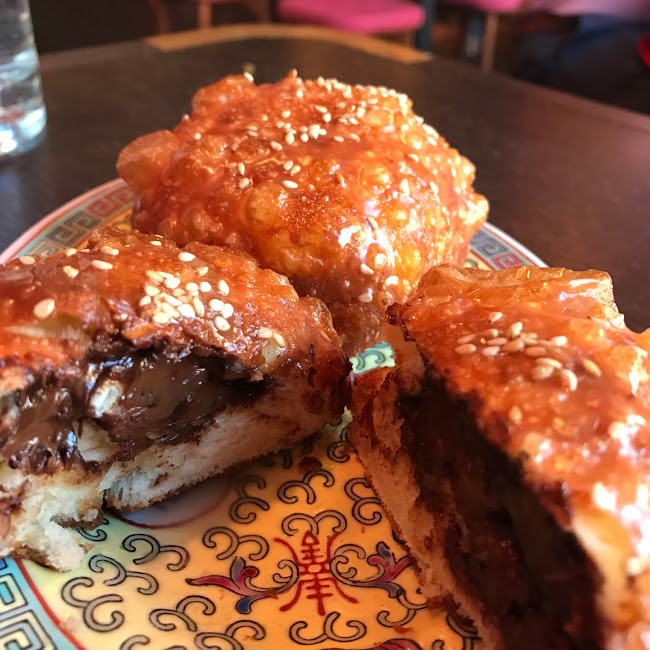 At the end of a dim sum feast at Stephanie Izard's Chinese eatery, we couldn't help but order this donut-bao hybrid. The crackly, not-too-sweet topping gave way to rich chocolate filling; I did not regret ordering it.
MAINS:
Most nutrient-packed bowl
Left Coast's menu is brimming with healthy, veggie-centric options, but I've stuck with this curry bowl every time. From the green beans and yams all the way to the toasted coconut, every component comes together well.
Tried-and-true pizza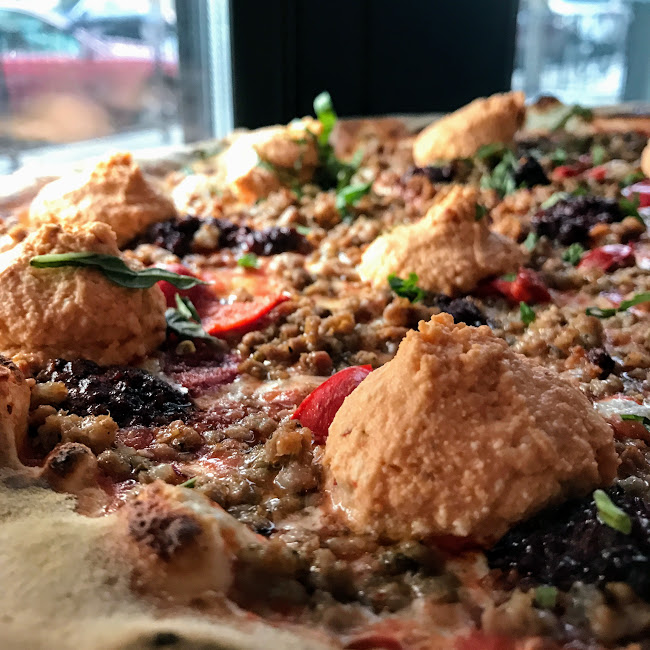 If anyone mentions Coalfire, 'nduja (a spicy, spreadable sausage) is the first pizza I recommend (and so does most of the Chicago food media). Sausage comes in two forms: one is sliced thin, and the other is whipped into the ricotta mounds. Fresh from the coal-burning oven, it's pretty much a foolproof pick.
Most comforting beer pairing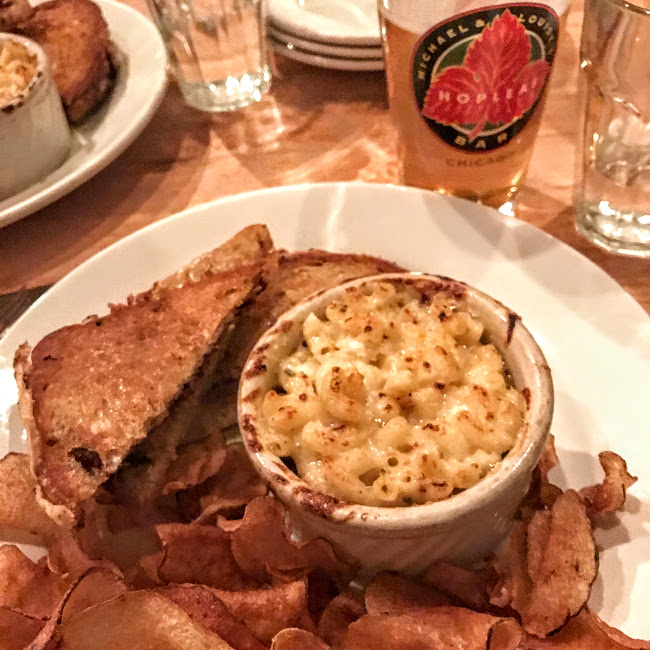 Hopleaf in Andersonville is world-renowned for its encyclopedic beer list, but they definitely don't cut corners on the food. The CB&J is an especially comprehensive pairing, with three kinds of comfort in one dish: a cross between grilled cheese and PB&J (raclette cheese in addition to cashew butter and fig jam), crunchy chips, and mac & cheese (made cheffier with Stilton). I'd trust it to soak up any brew.
Best fancy burger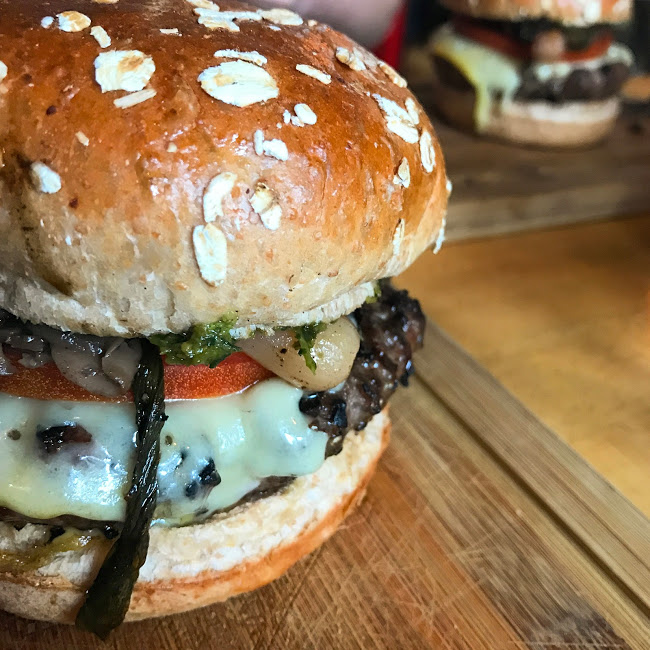 You know it's really spring when ramps start appearing on every menu, and Butcher & the Burger was no exception. I'm usually overwhelmed by all their options, so ordering this special was a no-brainer. It was a winning combination of truffle-pesto-onion goodness.
Best not-so-fancy burger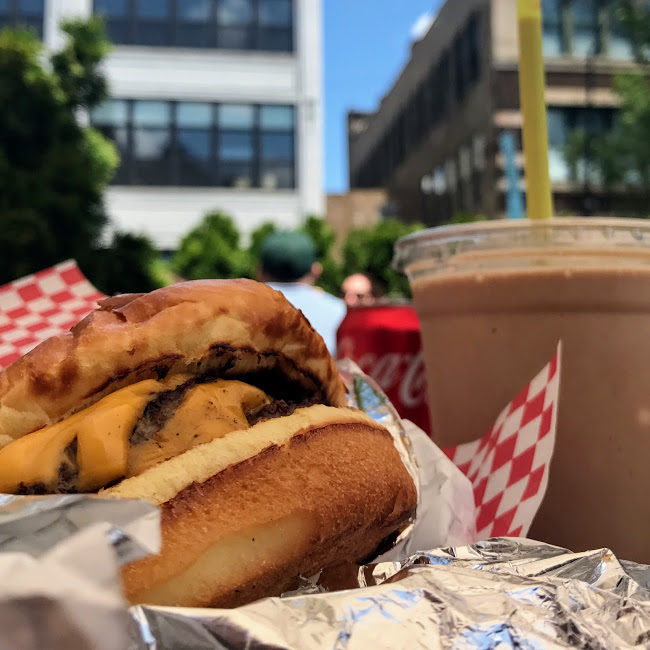 Small Cheval keeps it simple with a slightly more portable version of the famous Au Cheval burger, complete with griddled patties, American cheese, and house-made pickled. I also added fernet to my chocolate shake for an extra licorice-y kick.
SIDES AND SNACKS:
Summeriest vegetable dish
We snacked at seafood bar Cold Storage as a prelude to dinner at adjacent Swift & Sons, and this dish was a perfect pairing with our oysters. The sweet corn and cool lime granita set off the juicy tomato and soft burrata beautifully.
Best use of goat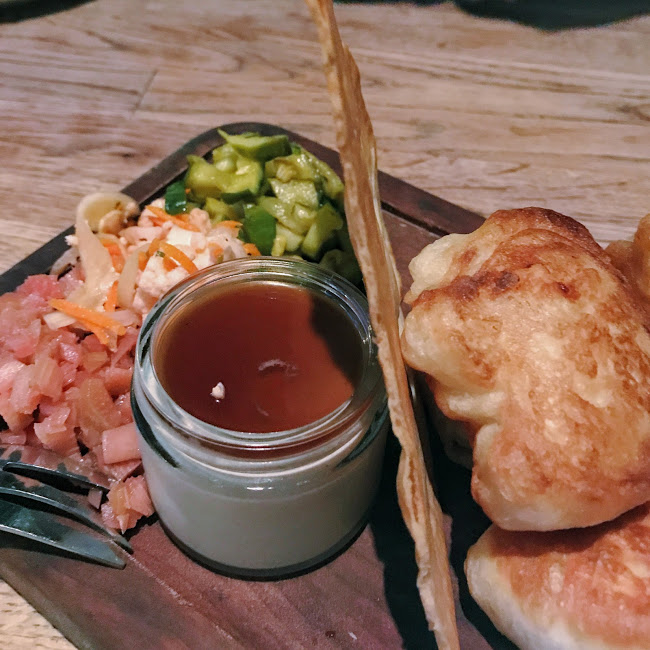 My rule when dining at Girl & the Goat is to always order one goat dish (and one bread, and at least one from each of the standard menu sections…but that's another story). The mousse was almost mesmerizing in its silkiness atop warm crumpets, with a nice variety of pickled vegetables as palate cleansers.
Most addictive snack
Along with the strawberry-and-pistachio-studded burrata dish at the top of this post, this popcorn stole the show at West Town brewery Forbidden Root. Maybe it was the coconut oil, maybe it was the specific type of chiles (the same ones as the Korean hot sauce that's used in bibimbap and other dishes); either way, this popcorn was outrageously good.
Best hybrid appetizer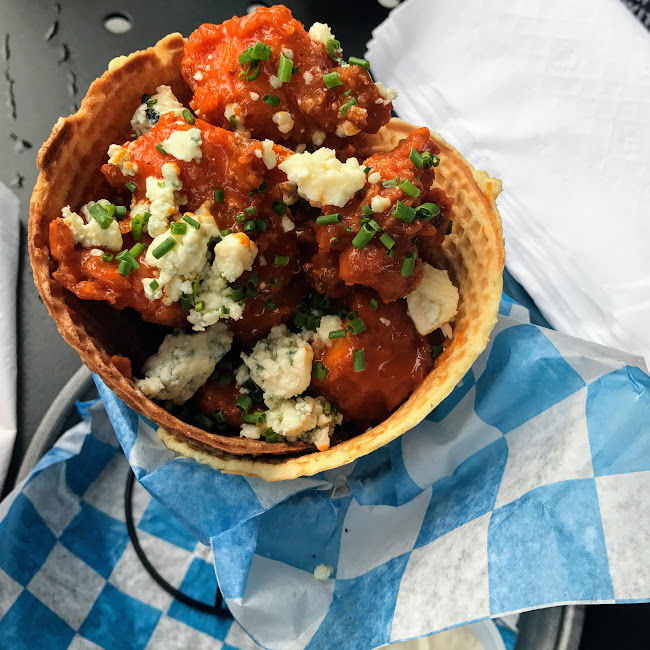 The second-floor terrace of Brickhouse Tavern overlooks Park at Wrigley (the new development next to Wrigley Field), so it was the perfect perch after a July Cubs game. This was the most creative (and successful) buffalo chicken format I've seen yet.
Concession stand stunner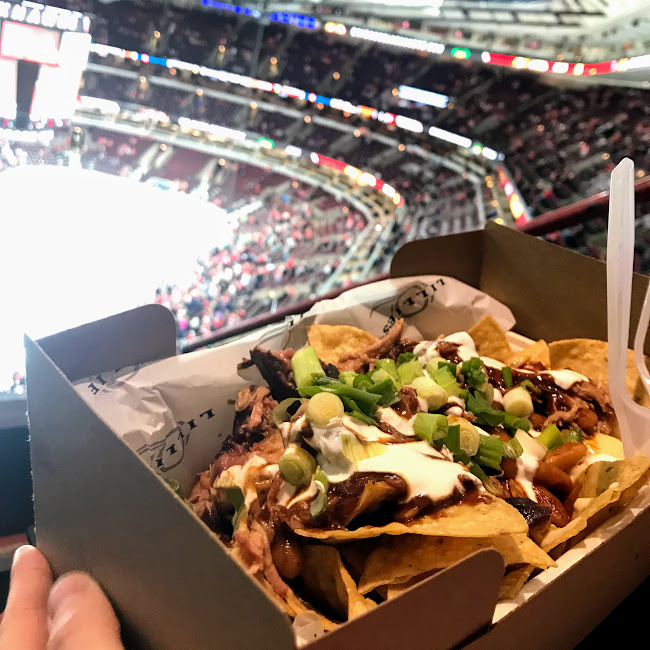 Most of Chicago's stadium food has been getting an upgrade in recent years, and I was especially pleased to find a Lillie's Q outpost at a recent Blackhawks game. The pulled pork nachos put those standard cheese cups to shame, with plenty of pulled pork, sauce, green onions, and even BBQ beans.
DRINKS:
Best atmosphere-matching cocktail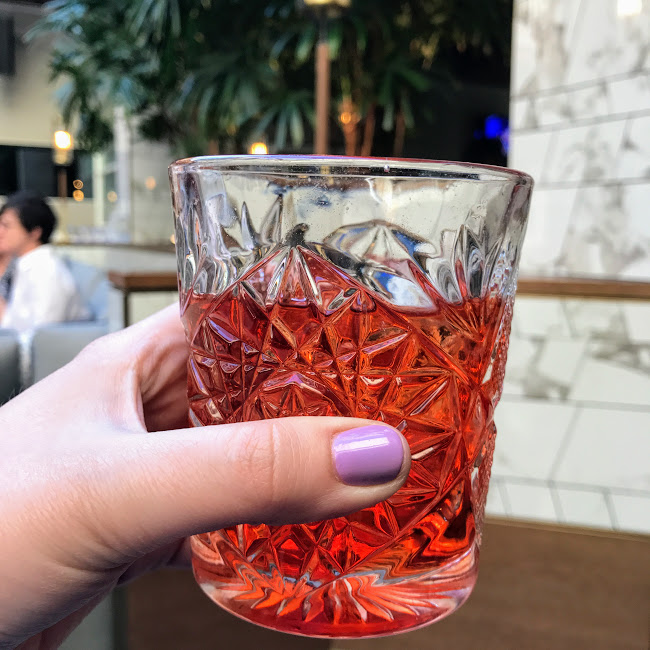 Boleo occupies a colorful rooftop space on the 15th floor of the Kimpton Gray hotel. This subtly coconut negroni was an ideal sipper as I gazed at blue sky and tall buildings (and wished I could take home the gorgeous glass).
Closest drink to a vacation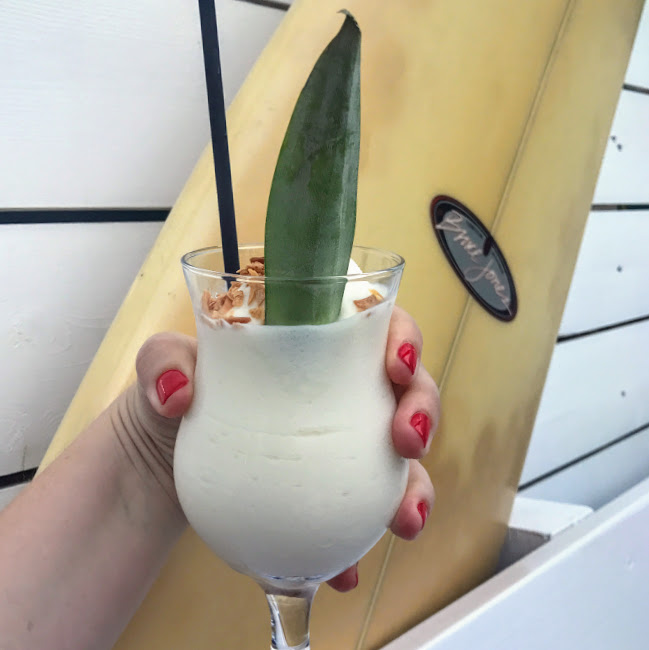 Mahalo is the closest you can come to a Hawaiian escape without leaving Wicker Park. This piña colada was a refreshing treat on the surfboard-adorned rooftop.
Best boozy milkshake
As much as we love the fried chicken at The Roost (a very popular catering pop-up at the office), our group may have come to brunch at the Irving Park Road location primarily for this shake. I've had the peach cobbler as a side before, but it really is dreamy when whirled into vanilla ice cream and spiked with rum.
SWEETS:
Sweetest surprise
Beatnik was the most Instagrammable restaurant interior of 2017, with its bold fabrics and exquisite chandeliers. Food-wise, while we expected all the globally inspired cocktails and snacks to be on point, this dessert was what shocked our entire party. The cake itself was delicate and citrus-y, and the shredded phyllo worked even better than a crust.
Most nostalgic dessert
Anything PB&J is a winner in my book, so I was thrilled to see this pie special. The potato chips were a nice final touch on an already nostalgic slice.
Most novel treat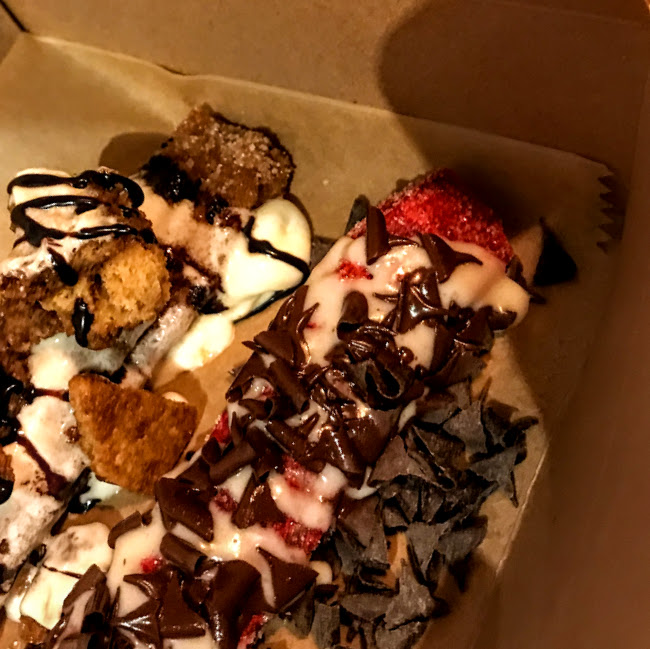 River North newcomer Barrio also opened a neighboring upscale bodega that specializes in fancy churros. I chose the red velvet and s'mores varieties, both warmed and drizzled in chocolate, and let's just say there will be more churro stops in my future.
The $0 three-peat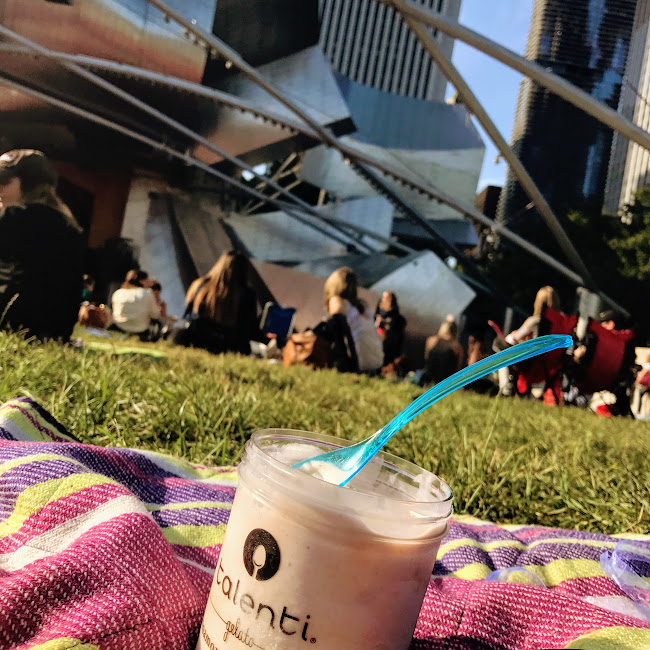 Talenti ran a free gelato promotion at three movie nights in Millennium Park this summer, and (somewhat coincidentally) those were the three I attended. This flavor ended up in my hands the first time, and I sought it out thereafter because the cinnamon and peach were so perfect for summer. And the price of $0 made it especially satisfying!
Thanks for reading in 2017, and looking forward to another delicious year!
The details: River Roast, 315 N. LaSalle St.; Quiote, 2456 N. California Ave.; Duck Duck Goat, 857 W. Fulton Market; Left Coast, 717 N. Wells; Coalfire, 3707 N. Southport Ave.; Butcher & the Burger, 1021 W. Armitage Ave.; Hopleaf, 5148 N. Clark St.; Small Cheval, 1732 N. Milwaukee Ave.; Girl & the Goat, 809 W. Randolph St.; Cold Storage, 1000 W. Fulton Market; Forbidden Root, 1746 W. Chicago Ave.; Brickhouse Tavern, 3647 N. Clark St.; Lillie's Q (300-Level) at United Center (Sections 206 and 330), 1901 W. Madison St.; Boleo, 122 W. Monroe St.; Mahalo, 1501 N. Milwaukee Ave.; The Roost, 1467 W. Irving Park Rd.; Beatnik, 1604 W. Chicago Ave.; Bang Bang Pie Shop, 2051 N. California Ave.; La Bodega at Barrio, 65 W. Kinzie St.; all Chicago.