Travel Eats documents my food adventures while traveling.
I've been staying extra busy the past few months (apologies, blog readers!) with a new role at work, and that role took me to our Bay Area offices for a week. While it was a pretty packed schedule, I still fit in some quality meals.
The night I arrived in San Francisco, I made a beeline for the Mission, a neighborhood that I knew from experience was great for dining. Foreign Cinema stood out for its sleek open-air dining space with string lights and a movie projected on the back wall. The food was also excellent – from a Catalonian noodle dish, brimming with four kinds of seafood and a buttery cumin sauce, to smoky, mole-slathered calamari with lime and tortilla chips.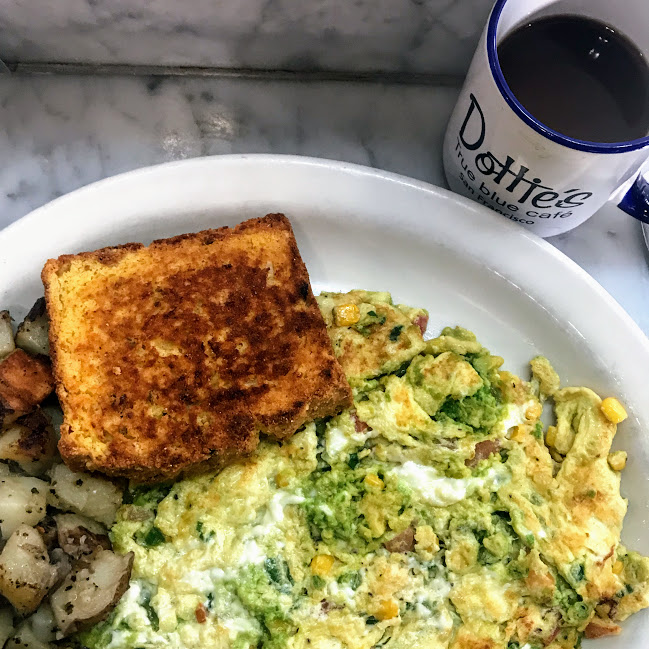 Dottie's True Blue Cafe is a comfort food classic that had come highly recommended by friends, so I made sure to stop for brunch. I arrived just before it opened, and a line had already formed, as is typical, but the short wait was worth it. I went for the frittata special, a mammoth plate of eggs stuffed with some of my favorite ingredients (avocado, corn, feta), plus a side of crispy cornbread with pepper jelly. While I was far too full to try any of the bakery offerings during my visit, I managed to bring a small loaf of Dottie's signature coffee cake back to Chicago (and was very glad I did).
Another landmark I finally tried this trip was Mission Chinese Food, chef Danny Bowien's trail-blazing take on Chinese cuisine that opened in the Mission nearly ten years ago, and now has locations elsewhere. Of the dishes I tried, the Westlake lamb dumplings stood out for their balance of tangy sauce, crispy wonton wrapper, and lots of fresh dill.
One unexpected dining success came at Hogwash, a craft-beer-and-sausage spot in Union Square. While I first chose the Burnin' Brock sausage sandwich almost solely for its fried avocado, the rest of the spicy, crunchy flavors came together exceptionally well for one of the most satisfying bites of the trip.
And I did still fit in a few sweet indulgences, starting with Tartine Manufactory, the recent restaurant offshoot of legendary Tartine Bakery. I went with a fairly simple sundae – strawberry and vanilla swirl soft-serve, colorful sprinkles, and candied almonds – but it was elevated just enough to feel special.
Bi-Rite, another favorite from past trips, has both a market and an ice cream shop on the same block. Rather than waiting in the long ice cream line, I picked up an ice cream sandwich (and a few other edible souvenirs) from the market. After a ride home to thaw, the rich coffee ice cream melted into the crumbly brown sugar cookies to the point that it might as well have been fresh from the shop.
Speaking of coffee, there are a wealth of great roasters in San Francisco, but one of the stalwarts is Blue Bottle, so I felt very fortunate to have a shop within walking distance of my hotel. Their latte really is worth savoring.
The details: Foreign Cinema, 2534 Mission St.; Dottie's True Blue Cafe, 28 6th St.; Mission Chinese Food, 2234 Mission St.; Hogwash, 582 Sutter; Tartine Manufactory, 595 Alabama St.; Bi-Rite Market, 3639 18th St.; Blue Bottle Coffee, 66 Mint St.; all San Francisco, California.