Travel Eats documents my food adventures outside of Chicago.
I spent some time with friends in Washington, DC, last week, and while I didn't get to fit in any overly elaborate meals, I still emerged with a few favorite bites from the nation's capital. The first came at Duke's Grocery in Dupont Circle, a café that takes its inspiration from the cuisine of East London. We ordered several of the seasonal, daily-varying dishes to share over a leisurely late lunch on the front patio. I liked everything, but the best part of our umbrella-shaded feast was the colorful fish plate, featuring four different kinds of smoked fish to layer onto toast with pleasantly mild pickles, capers, and a squeeze of lemon.
I started another morning at Penn Quarter's Red Apron Butcher to try a tigelle, a breakfast item that had piqued my interest before the trip. The tigelle itself was a pressed Italian flatbread that was like a crispy English muffin, but denser and more flavorful. Stuffed between its two halves was spicy pimento cheese, tasso ham, and a hefty portion of egg. It was a little unwieldy at times, with egg and cheese oozing over the sides, but also the most memorable, delicious breakfast sandwich I've eaten lately. Plus, how can you not love the flower design that's griddled into it?
After hearing my friends rave about Ted's Bulletin, I was happy to stop by one evening to snag one of their popular pastries for dessert. And once I saw that a peanut butter and bacon pop tart was one of my options, I didn't need to consider anything else. It stayed true to the texture of a real pop tart, but with a decadent, sweet-and-savory twist, and went wonderfully with a glass of milk.
Finally, I knew I didn't want to leave DC without visiting a food truck, as the scene there is much more established and diverse than it is in Chicago. When I got to Farragut Square around lunchtime, there were at least a dozen different trucks, slinging everything from Indonesian, Ethiopian, and Cajun cuisines to crepes, pies, bubble tea, and grilled cheese. After making the rounds, I decided to go with a Venezuelan arepa from Arepa Zone, whose healthy line indicated that the piping hot corn pockets were worth it. I loved the creamy chicken-avocado salad filling, and the watermelon salad on the side was a refreshing, summery touch.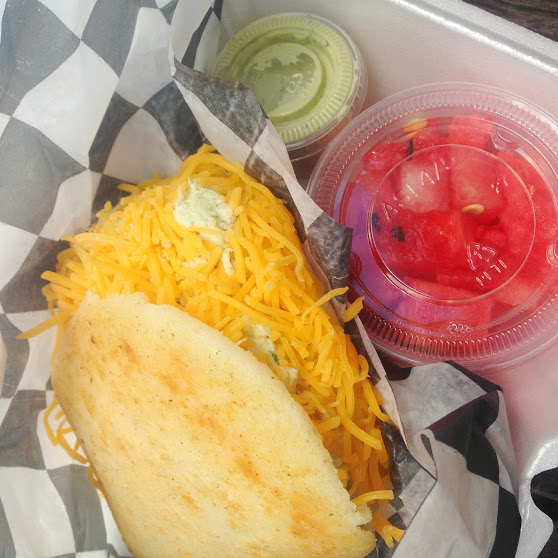 The details: Duke's Grocery, 1513 17th Street NW; Ted's Bulletin, 505 8th Street SE; Red Apron Butcher, 709 D Street SW; Arepa Zone, Farragut Square and other varying locations (all addresses in Washington, DC).