This Best Bite is one of the 20 foods and 15 drinks I've set out to taste and document in 2015. View the full list to see my plan and progress.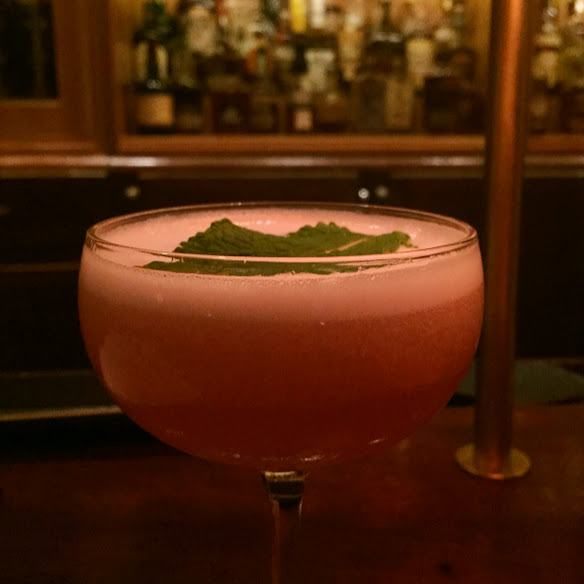 Why it's this week's Best Bite: The Chicago Athletic Association Hotel reopened earlier this summer after extensive renovations, and it's emerged as the dining and drinking wonderland that Michigan Avenue never knew it needed. When the Shake Shack on the first floor isn't even the main attraction, you know you're in for an experience.
Go upstairs, wander through the impeccably styled lobby and down a hallway paneled with the same chocolate-hued wood that's prominent throughout the space, and you'll find what has to be the classiest game room in Chicago. Try not to get distracted by the billiards, shuffleboard, checkers, or even the full bocce court, and walk all the way back until you reach the double doors that lead to the Cherry Circle Room. With inviting leather booths, warm lighting, and a strikingly elegant bar, this restaurant has mastered the turn-of-the-century speakeasy vibe that can so easily feel forced elsewhere. But it's not surprising coming from the Land and Sea Dept. group – I've blogged about projects of theirs (Longman & Eagle, Lost Lake, Parson's) a combined eight times, so I guess you could say I'm partial.
So back to that bar, where I chose the gin-based Cameo Kirby to sip while waiting for our table. It stayed completely balanced between fruity and dry, and was deliciously frothy from the egg white. A simple and delicate drink, for sure, but also probably one of my favorite drinks of the year.
The beef tartare came recommended by the bartender, and seemed like the right kind of throwback dish for the setting. The luxurious creaminess of the quail egg combined with the punchy, herbaceous salsa verde brought the savory mixture together. We spread the tartare on thick slices of grilled bread, whose char added a cooked dimension to the otherwise uncooked beef. Our main courses were just as good, but the tartare definitely set the tone for the rest of the meal.
And your visit to the hotel isn't complete without a cocktail at Cindy's, whose 13th floor rooftop boasts what is unquestionably my new favorite view of Millennium Park. Order the rose-petaled "We'll Always Have Paris," , lean up against the glass, and soak it all in, whether by day…
…or by night.
The details: Cherry Circle Room and Cindy's at the Chicago Athletic Association Hotel, 12 S. Michigan Ave., Chicago.
[googlemaps width=300 height=300]