Last night, I attended my first Land and Sea Dept. pop-up dinner with two food-loving friends. We bought tickets for the later of the two seatings held in the group's East Garfield Park studio space (both sold out within hours).
It was the first of this fall's From Good Stock supper club series, and featured Chef Andy Ricker preparing the cuisine of the Tai Yai / Shan people in the north of Thailand. Everything was served family-style at communal tables, and I felt very at-home among people who appreciate adventurous food as much as I do.
Ricker is renowned in the food world for the wildly popular Pok Pok Thai restaurants, which opened first in Portland, then expanded to New York and Los Angeles. Pok Pok was at the top of my list when I visited Portland a few years ago, and the chicken wings (and more) did not disappoint.
With a soundtrack of Thai music from the DJ, we opened the evening with a cocktail by Paul McGee (best known for the beloved Lost Lake) that included local Letherbee Gin and one of Pok Pok's drinking vinegars. It was punchy, fruity, and complex, as McGee's cocktails always are, and set the tone for the sour-sweet-spicy balance that would persist throughout the meal.
The first course was anchored by a fiery dip of sour tomatoes, peanuts, green onions, and a whole lot of chiles. Of all the accompaniments – cabbage, cucumber, and some more exotic herbs and vegetables – my favorite were the knotted green beans. The spiciness of the dip was right at the edge of my comfort level, but I'd prefer an authentic experience over one tamed for Western palates. Lacey fritters made with shallot and green papaya were a deep-fried foil for the chile-laden dip.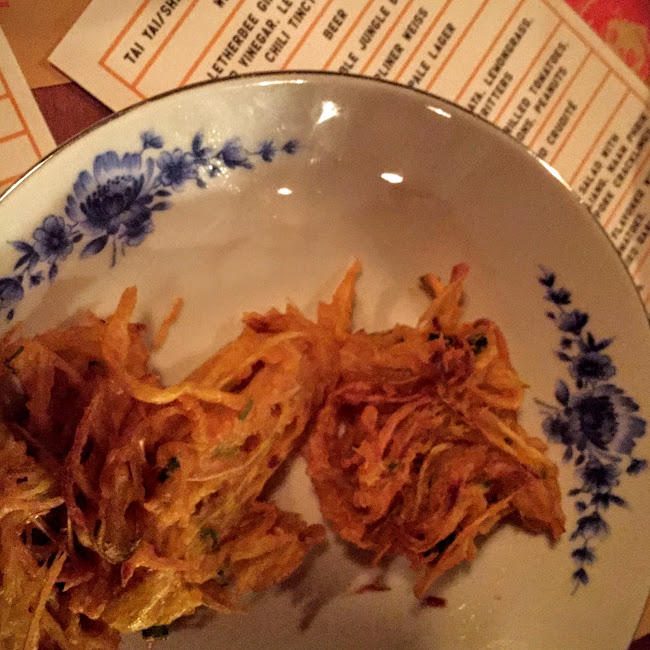 The two components of the second course had the same sort of dynamic: one spicy and super-charged; one meant to absorb the other's impact. The yu choy salad was a textural explosion of crispy shallots, peanuts, and pork cracklings, plus more of the sour-spicy ingredients from the dip and pungent black sesame oil. The heat of the salad was tempered by rice balls, gently flavored with turmeric and fried garlic. Eating both together was key to this course.
We paired the first two courses with Double Jungle Boogie, a fantastic imperial IPA from local Marz Community Brewing Co. Then the beer got even more creative: each person was presented with a Thai "jelly beer," a bottle of Singha lager cooled below freezing for a slushy-like effect (explained here by Thrillist). A traditional elephant-carved barrel gently shakes the beer in an ice bath – here's an Instagram video of the barrel in action. When the beer is opened, the pressure release and temperature change is what creates the slushy consistency.
And, needless to say, such a cold beer was sweet, sweet relief after two spicy courses. I don't think I've ever appreciated an icy lager more than I did at that moment.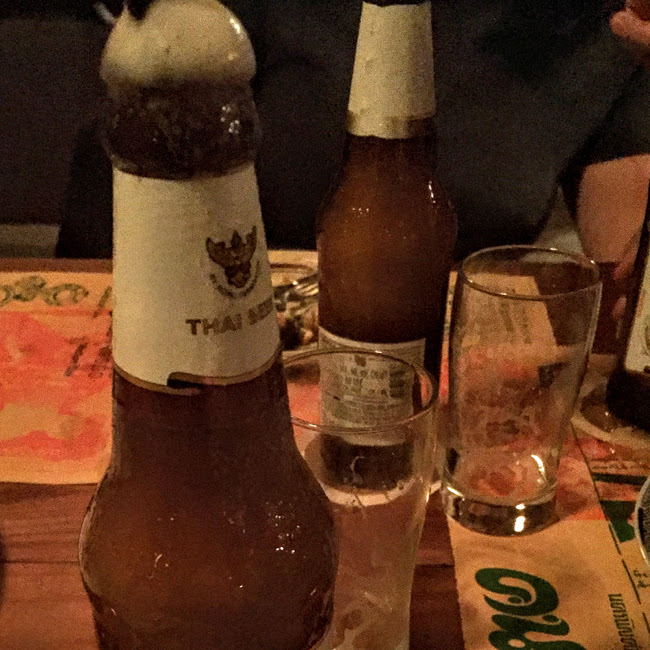 Then came the third course, whose centerpiece was a luxurious pork belly and shoulder curry. The pork was wonderfully tender and aromatic from just enough five-spice, bathed in a mild-yet-rich broth. Alongside were lightly seasoned, almost creamy rice vermicelli noodles showered with more of the same onions and herbs. The noodles were especially useful in soaking up the leftover pork broth. The course also included a curry of boiled eggs and what a fellow diner described as Thai marinara sauce. Eggs cooked in a tomato-based sauce are a staple of many world cuisines (Israeli shakshuka is the buzziest at the moment), and this version fit right in.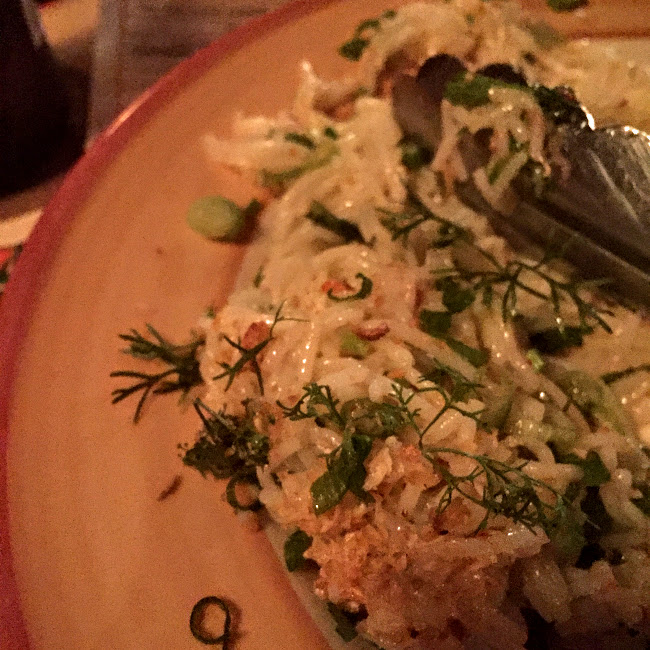 The meal ended the way it began: with a mint-garnished cocktail. This time, cold-brew coffee joined milk, coconut, and Letherbee fernet (a spirit I keep on hand at home) as a sweet and licorice-scented dessert drink. The dessert itself was a bowl of coconut cream, sweetened with palm sugar and dotted with Thai bananas and soft tapioca pearls, which were worlds apart from the larger (and to me, unappealing) bubble tea variety. As a whole, the meal was an unforgettable introduction to ultra-regional flavors that I likely would never have experienced outside of traveling there myself.
View more coverage of Land and Sea Dept. restaurants.
The details: From Good Stock by Land and Sea Dept., 3124 W. Carroll, Chicago.
[googlemaps width=300 height=300]