This is part of a series of posts about Chicago Restaurant Week 2020, held January 24–February 9. View all of this year's meal recaps, or browse previous Restaurant Week coverage from 2013–2018.
Best Bite: The best part of going to a tapas restaurant is getting to spread the meal across many dishes, and Cafe Ba-Ba-Reeba's Spanish brunch offering was no different. With four of us participating in Restaurant Week, we sampled six breakfast-y plates and three desserts. For my best bite, I'm torn between either the Marcona almond-flecked Nutella that came with the waffles, or the toasted Cubano-style breakfast sandwich with braised pork and mustard sauce.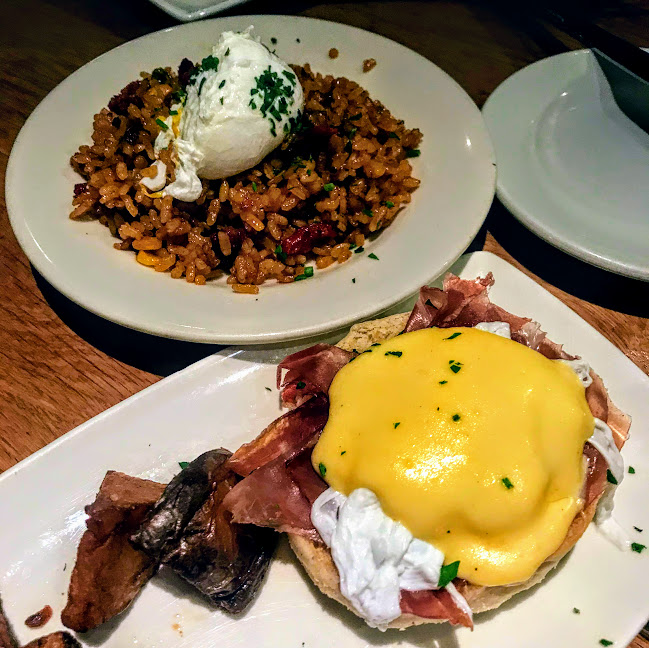 Other notes: I was glad to see paella factor into the morning menu, made even better after mixing in the poached egg; same with the twist of using Spanish jamón in eggs Benedict. Included in the menu price was a glass of sangria, a mimosa, or a trip to the DIY Bloody Mary bar, all of which definitely bumped up the value. This was technically a Restaurant Week repeat for me – I first went for lunch way back in 2013, when I was apparently just as impressed with the value (and the use of Marcona almonds).
The details: Cafe Ba-Ba-Reeba, 2024 N. Halsted St., Chicago.